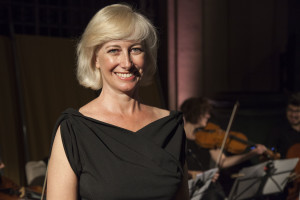 At the Business Angels Community Summit on 24.08.2017 – for the first time in Europe – the best European female business angel of the year was awarded. The award, the "Golden Aurora", went to Paola Bonomo from Italy. She prevailed against six other nominated outstanding female competitors from another four countries (Germany, Austria, Switzerland, Ukraine). The prize was awarded by Business Angels Network Germany (BAND), the association of business angels and their ecosystem; it was presented by Federal Minister of Economics Brigitte Zypries. "Paola Bonomo and the other nominated female Angels are role models. Their examples show that women can be excellent start-up investors. Europe's economy would experience a real boost if only nearly as many women started up as men. Women like female business angels therefore need to be made more visible so that other women can emulate them. I'm doing that, for example, with my #starkefrauenstarkewirtschaft, which means "strong women, strong economy" says the minister.
The winner of the first "Golden Aurora" has an impressive career as an IT expert in leading positions at international corporations. At the consulting firm McKinsey & Company, she rose to the level of partner, and later served as senior director for Europe at Ebay, head of online services at Vodafon Italy, and regional director for Southern Europe at Facebook. In 2016 and 2017, she was one of the "Inspiring Fifty," the 50 women in Europe who have a special ability to inspire young girls about technology.
Bonomo's first startup investment was a typical "Family and Friends" investment in a traditional Modena balsamic producer in 2004. Later, she used her experience to invest in e-commerce, online marketing and digital advertising technologies. She had a successful exit after participating in two rounds of financing with AdEspresso (adesspresso.com), a SaaS tool for Facebook Ads performance optimization, which was sold to Hootsuite Media. In the meantime, she is also active in the medical technology and environmental technology sectors, not without occasionally getting involved in lifestyle product again. She takes great pleasure in supporting female start-up entrepreneurs and accompanying them to success.