Datum & Uhrzeit
22.02.2016
Ganztägig
Veranstaltungsort
Zeche Zollverein
Gelsenkirchener Str. 181
Essen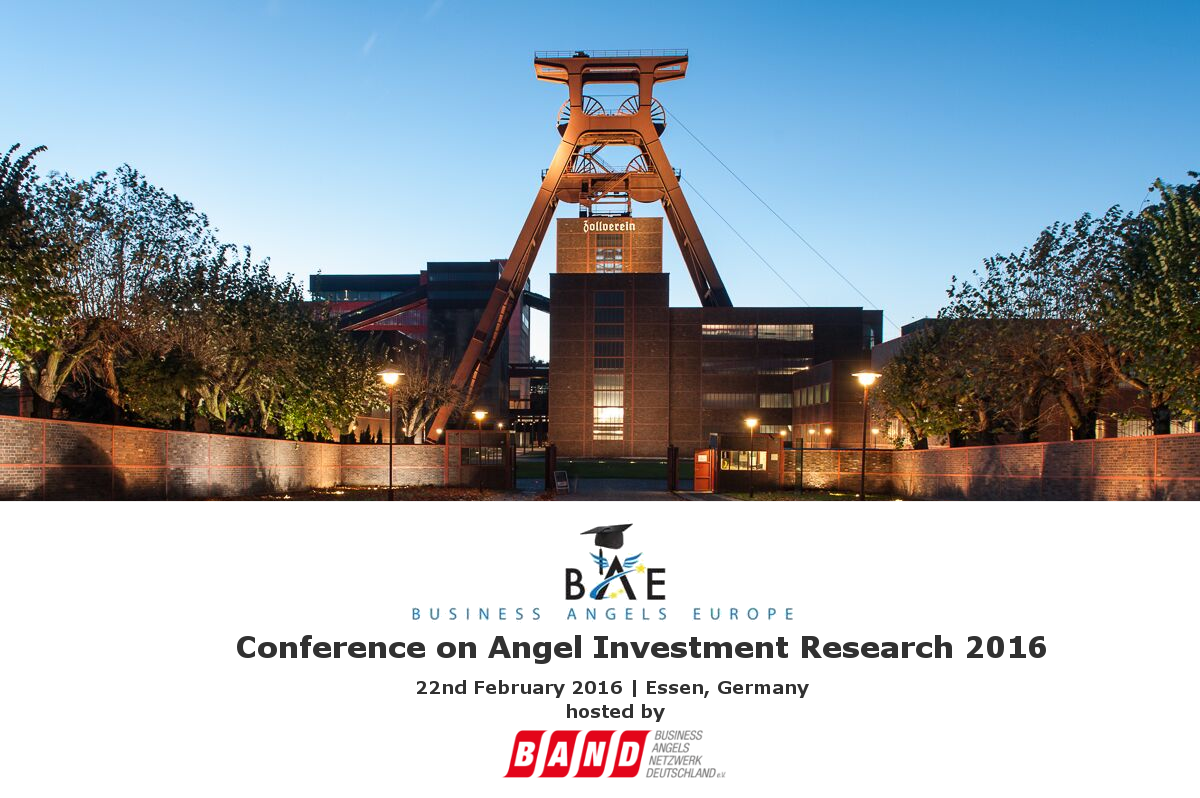 Business Angels Europe (BAE), the European Confederation of Angel Investing, representing the European Business Angels' Federations and Trade associations in Europe, will organise
BAE Business Angels Europe - Conference on Angel Investment Research 2016
hosted by Business Angels Netzwerk Deutschland e.V. (BAND) - the German Business Angel Association
Monday, 22nd of February 2016 from 09:30am – 06:30pm in Essen, Germany
The conference will take place in Germany in the city of Essen at the unique ZOLLVEREIN UNESCO World Heritage Site, the cultural heart of the Ruhr Area. After the Berlin Conference in 2013 this is the second time that scientists and academics specialized or interested in Angel Investment research from all over Europe will gather together to continue the scientific dialogue about angel investment research and to strengthen their "community".
The conference will focus on the following subjects in three consecutive sessions
Session 1: State of the Art: What do we know about the European Business Angels markets?
Session 2: Needs and Requirements: the view of the market players and the politicians
Session 3: Research instruments and methodology – how to explore the "visible" and the "invisible" Angel market?
We are delighted to welcome some of the most renowned angel investment researchers of Europe for the conference in Essen, among them are:
Prof. Dr. Jörn Block, University of Trier, Germany
Prof. Vincenzo Capizzi, Professor for banking and finance, Universita del Piemonte Orientale, Novara, Italy
Dr. Christophe Bonnet, Professeur de finance, Grenoble Ecole de Management, France
Dr. Helmut Krämer-Eis, European Investment Fund, EIF
Prof. Tom Lahti, Hanken School of Economics, Finland
Dr. Georg Licht, Zentrum für Europäische Wirtschaftsforschung, Germany
Prof. Dr. Colin Mason, University of Glasgow, GB
Prof. Miruna Radu-Lefebvre, France
Sofia Avdeitchikova, Sweden
Prof. Peter Wirtz, Jean Moulin University, Lyon, France
Researchers in the field of angel investment are invited to gather together from all over Europe. Participation is by invitation only.