The German Business Angels Day is the central meeting place for Angel Investors, start-ups, multipliers and all players in early-stage financing. Is all in one: Europe's biggest congress of the Business Angels Ecosystem, seismograph of change processes in the Business Angel market, forum for policy and trend barometer for innovation and celebratory event. Every two years it takes place in another federal state.
The next German Business Angels Day will take place in early summer 2014.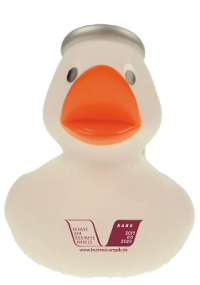 With the support of BAND decades duck you can get a free ticket for the "German Business Angels Day 2014".
Take me with you on trips and take a picture of me!
With Business Angels founders are always on top!
Therefore, you should take this little heavenly Angel Duck always with you, even on trips. Take a picture of your Angel duck with your smartphone. E.g. when the duck is climbing the great wall or on when the duck is on a yachting cruise.
Send this photo by email to band@business-angels.de and it will be published here at this point. You are welcome to write witty text to explain the picture.
The submitter of the most interesting and beautiful photo and text receives as a prize a ticket for the free participation in the "German Business Angels Day 2014". The decision is made by a jury consisting of members of the BAND Heaven of Fame.